Diesel Repair & Roadside Service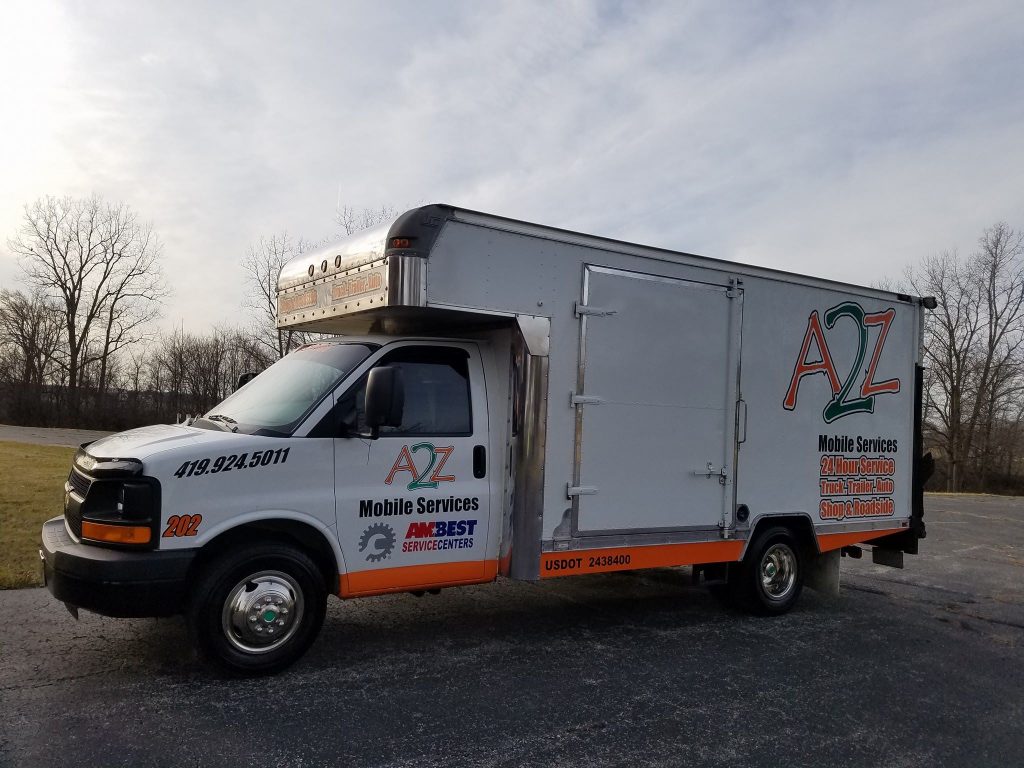 A2Z 24-Hour Roadside Services LLC provides drivers with fast, quality repairs performed by trustworthy and dependable mechanics. When you are expected to deliver something, every minute counts. This is why we don't waste any time in delivering you the help that you need. When you call on our services, someone will always be available to address your service needs, 24-hours a day.
We'll come to wherever you are in West Unity, OH to administer the services that will get you back on the road as quickly as possible. Don't hesitate to contact us when you need 24-hour roadside services.
About Us
We began our business more than 10-years ago, providing truck drivers with towing services. Our business has expanded to offer far more useful services, such as the various roadside services that a truck driver might require. We knew that there was a need to incorporate all of the services that were needed into one company, which is what we did. In doing so, we are capable of helping more drivers with their service needs promptly. Whether it is a trailer, RV, bus, or an 18-wheeler, our experienced mechanics have the skills and qualifications needed to assist you with your service needs.
Mobile Mechanic Services
At A2Z 24-Hour Roadside Services LLC, we have assembled a team of the most seasoned mechanics to assist with your roadside service needs. With our mobile services you don't have to worry about bringing your vehicle to us because we'll come to you. Many drivers appreciate the level of convenience that we offer to them, which is why they often make us their first choice when they are seeking the services of a mechanic. We keep everything that we need to effectively address the needs of motorists, on our trucks. This is what makes it possible for us to effectively address the needs of the motorists who depend on us.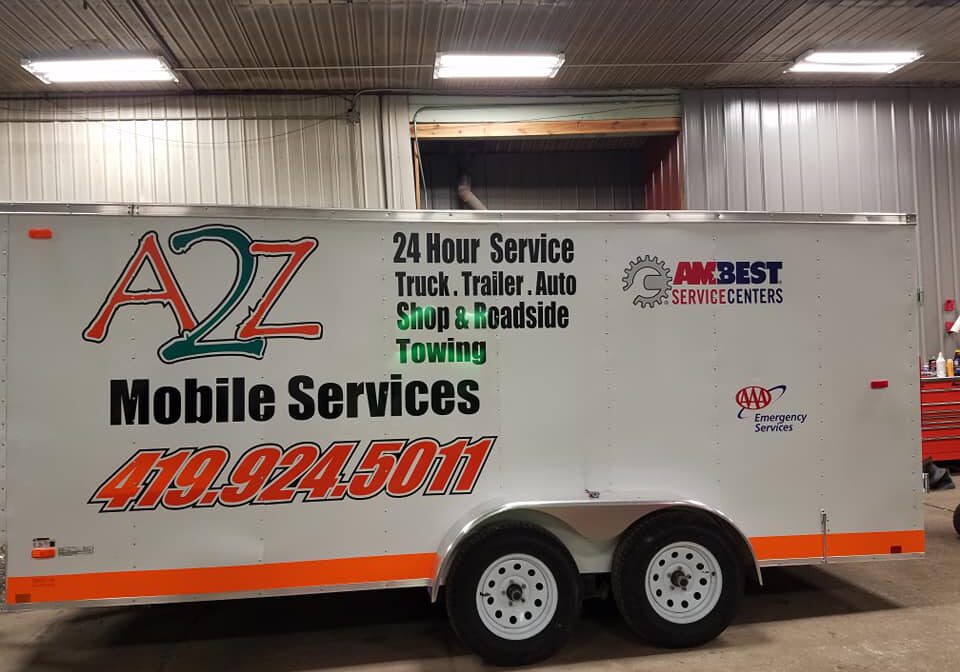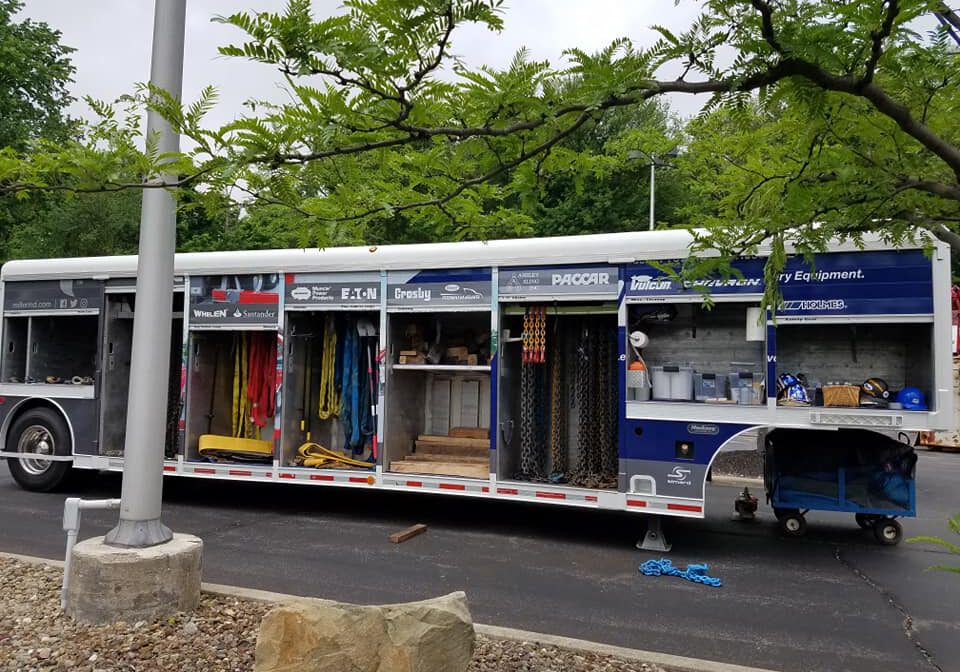 We are best known for our diesel repair and roadside services. With the help of our highly-skilled and experienced diesel repair mechanics, we have been able to aid hundreds of drivers who have been stranded on the road. Our mechanics have received the necessary training that makes it possible for them to assist with your diesel repairs.
24 Hour Roadside Assistance
Our fleet of trucks is well-maintained, which makes it possible for us to provide you with 24-hour roadside assistance. You can count on our mechanics to be there when you need them the most, regardless of the time of day or week. When you contact us for roadside assistance, we don't waste time providing you with the help that you need. Our drivers are immediately sent to your location.
It doesn't matter to us what type of truck or trailer you operate, our talented team of mechanics can effectively assist you with any needed repairs. You might think that you have to contact a tow truck service to have your truck or trailer towed to the nearest mechanic but you don't. Our mobile mechanics are ready and willing to come to wherever you are to administer the services that you need.
You save time and money by contacting our West Unity mobile mechanics to assist with your roadside service needs. Since we only work with the most experienced mechanics in the area, you are assured of receiving the best quality of services possible when you rely on us. Those who have turned to us for their service needs in the past, continue to do so. They realize that no other mobile service provider is as responsive as we are at A2Z 24-Hour Roadside Services LLC.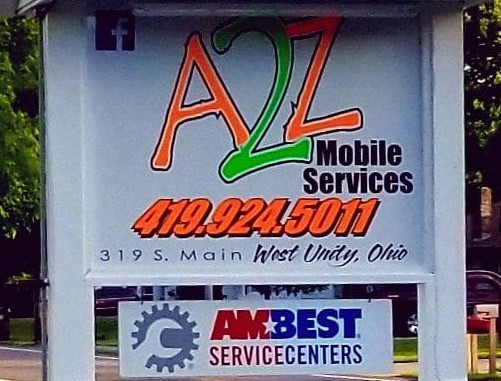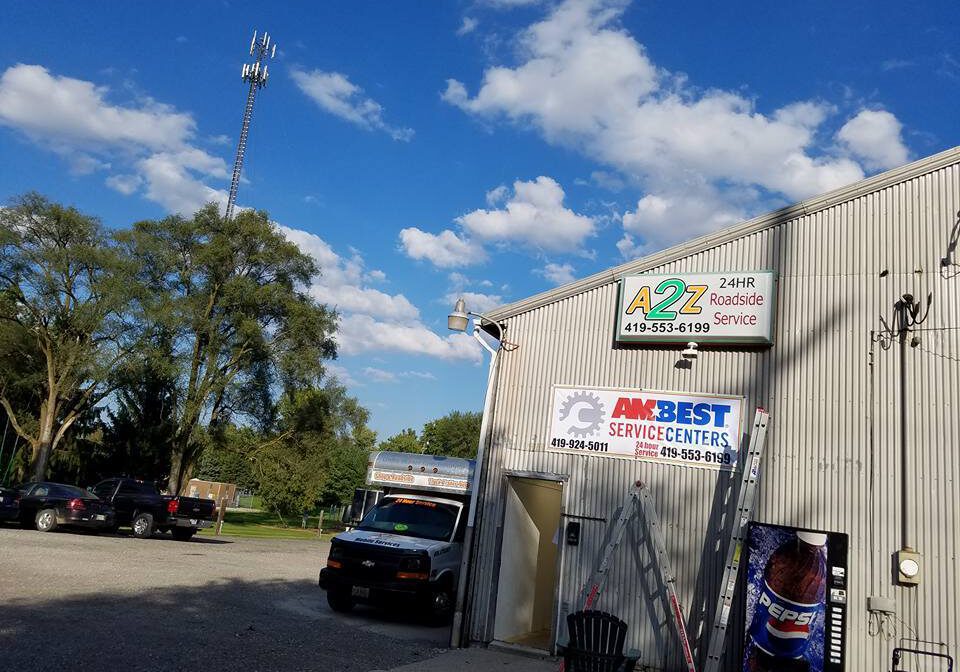 Our industry affiliations prove that we are serious about what we do and the services that we offer. If you are familiar with AAA or Ambest then you know that they are industry leaders, with decades of servicing the needs of the motorist. If you're also a member of these organizations then you are likely already receiving the many benefits that they offer. As members, we uphold the integrity of these organizations by offering quality services.
We have a fleet of well-maintained tow trucks and wreckers that enable us to assist drivers with their towing and recovery needs. You can get everything that you want and need when you turn to us, as we can help with every aspect of getting you back on the road. Call us first and receive fast and efficient towing and recovery services. We offer you our service guarantee.
"We only call on A2Z when we have any type of problem on the road. They always come through for us in a pinch and we never have to worry about whether or not they will show up or not. I would suggest that any truck delivery service use their roadside services." – John J.
"When we needed someone to tow our bus, we couldn't think of anyone in the area. However, after consulting with AAA they recommended that we use A2Z 24-Hour Roadside Services. We did and we can honestly say, they lived up to their reputation." – Arnold R.
"We couldn't find any tow truck service in or near West Unity that could remove our truck from the accident scene. Surprisingly, the last place we called, A2Z 24-Hour Roadside Services, had the right size truck for our towing needs. I am so happy that we chose their services because they took care of things quickly." – Gary T.
Contact Mobile Diesel Repair Services
Don't make the mistake of relying on any other roadside assistance service in West Unity, Ohio. We are the best and we prove this every time we dispatch one of our drivers to assist with your service needs. If you are seeking the services of a well respected, reliable and affordable roadside service, you have come to the right place. Contact us for any of your roadside service needs and receive prompt and effective services.